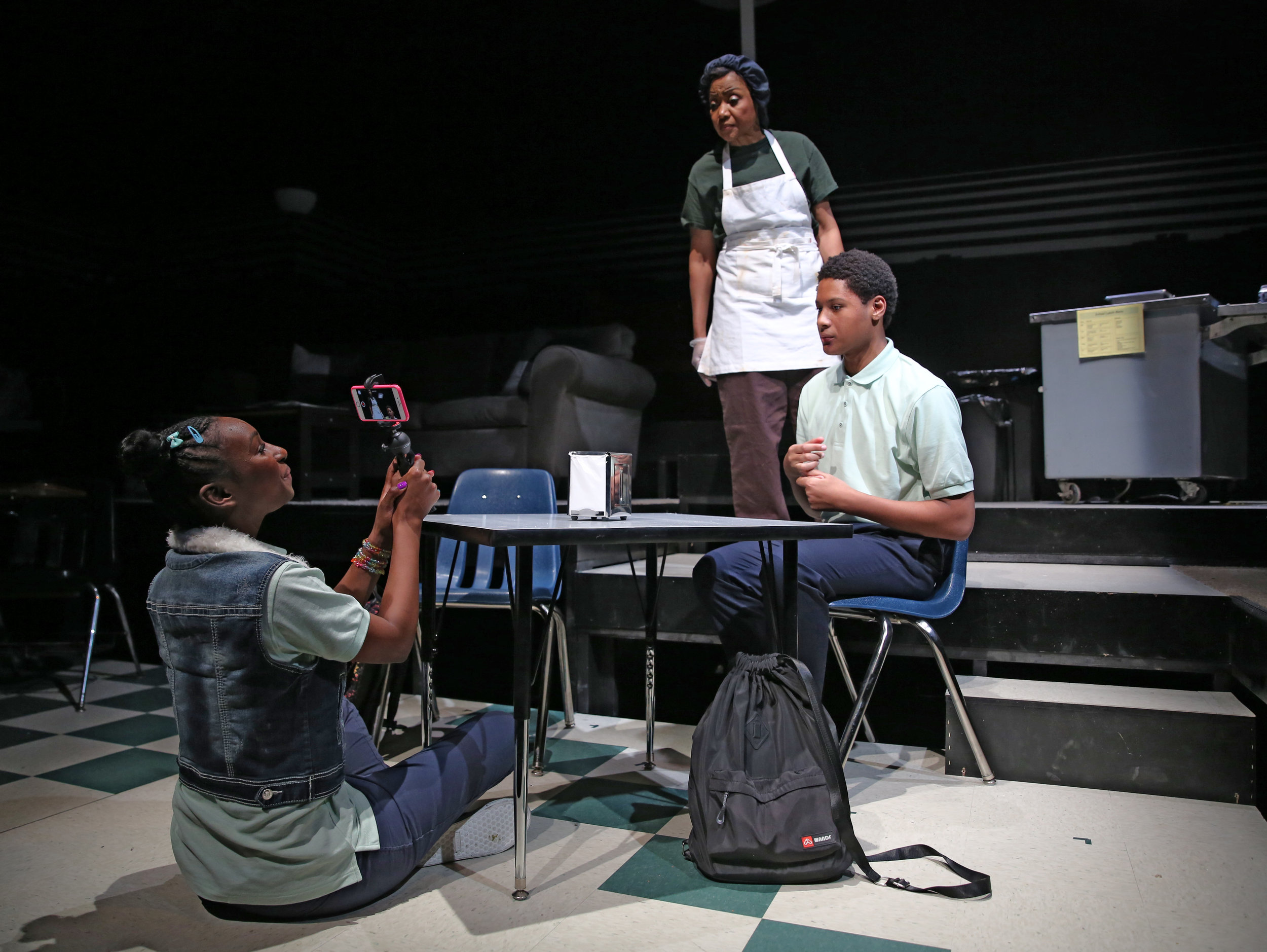 SURELY GOODNESS AND MERCY
by Chisa Hutchinson
directed by Jessi D. Hill
FEBRUARY 26TH - APRIL 13TH, 2019
Starring :
Sarita Covington, Jay Mazyck, Brenda Pressley, Courtney Thomas, Cezar Williams
A new play gutsy enough to be generous.
Set in an under-funded public school in Newark, Surely Goodness and Mercy by rising playwright Chisa Hutchinson, tells the story of a bible-toting boy with a photographic memory who befriends the cantankerous old lunch lady. Against all odds, Tino and Bernadette help each other through the mess of growing up and growing old.
Surely Goodness and Mercy has spent the last year charming audiences across the country. Now, Keen is honored to bring this vibrant new play to New York for the first time.
VENUE:
Theatre Row
410 West 42nd Street
(between 9th and 10th Aves)
New York, NY 10036
PERFORMANCE SCHEDULE:
Tues and Thurs at 7 PM, Fri at 8 PM, Sat at 2 PM & 8 PM, Sun at 3 PM
Additional performances on
Wednesday April 10th at 2 & 7 PM
Production notes:
The play runs 95 minutes, including a 10 minute intermission.
Recommended for patrons 12 yrs and older, contains adult language as well as a brief moment of physical violence.
Keen Conversations:

TALKBACK:
Thursday March 21st
Chat with the Cast and Director

MEET-UP NIGHT:
Friday March 22nd at 8pm
Keen Teens Alumni Night

TALKBACK:
Thursday March 28th
Black Theatre Makers
featuring
A.J. Muhammad, Director of New Works Lab for The Fire This Time Festival

TALKBACK & MEET-UP:
Thursday April 4th
Playwrights and New Plays
Moderated by Chisa Hutchinson

TALKBACK:
Thursday April 11th
Chat with the Cast
In Discussion with the Playwright
Chisa Hutchinson sits down with Keen Company's Director of New Work Jeremy Stoller to talk about the play's origins and the stories she's driven to tell.
SINGLE TICKETS:
PREMIUM TIX: $80
STANDARD TIX: $65
TUESDAYS: $25

#25Goodness: Tickets for all Tuesday evening performances of SURELY GOODNESS AND MERCY are just $25 online, by phone, or in person - no code needed!
GROUP TICKETS:
LOOKING FOR GROUP TICKETS OR STUDENT TICKETS?
PLANNING A FIELD TRIP OR SCHOOL NIGHT OUT?
WE'VE GOT YOU COVERED!

Group tickets and student tickets are available for most performances of
Surely Goodness and Mercy! Talkbacks and special workshops can be arranged based on group size and availability. Please contact us for more information!
MEET THE TEAM
Set Designer: Lee Savage
Costume Designer: Nicole Wee
Lighting Designer: Devorah Kengmana
Sound Designer: Sadah Espii Proctor
Production Manager: Rebecca Key
Press Representatives: David Gersten & Associates
Casting: Calleri Casting
Production Stage Manager: Jana Llynn
Listen to artistic director jonathan silverstein
talk about the show on the radio!